Stacker for Die Cutter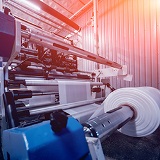 By providing rapid, multi-position measurement for up to 30 simultaneous positions, the linear position sensors from Temposonics significantly reduce setup time in applications such as stacking for die cutting.

Replacing individual encoders or proximity switches with a single, multi-position sensor allows customers to adjust multiple trim belts or knives and improve productivity.

The Temposonics sensor models are available in lengths up to 7,620 mm (300 in.) and a variety of outputs for a wide range of controllers.