Press Releases
TWO NEW DESIGNS FOR THE R-SERIES V
Dec 7, 2022, 05:11 AM by Temposonics
Temposonics, an Amphenol (NYSE:APH) Company, announces the newest expansions of the Temposonics® R-Series V position sensors.
The advanced sensor is focused on industry 4.0 (IIoT) functions like machine monitoring, predictive maintenance and process optimization. The new designs provides greater flexibility of use in industrial applications.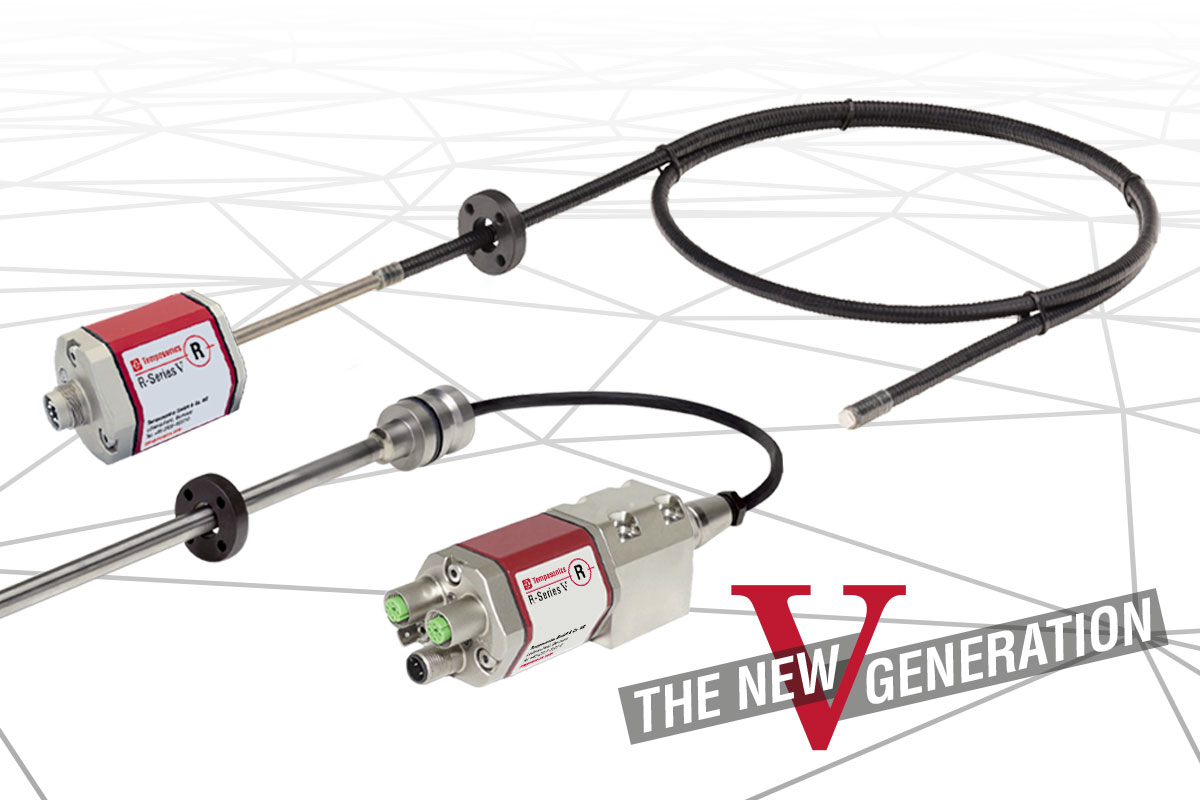 Following the successful launch of R-Series V standard rod-design (RH5) and profile-design (RP5) sensors the new R-Series V designs extend and strength the sensor family. The powerful, magnetostrictive position sensor is now available with detached sensor electronics (RDV) and flexible sensor rod (RFV).
The R-Series V RDV linear transducer is perfect for mounting within confined spaces and the sensor rod can be installed in the cylinder, while the sensor head is mounted externally. This separation of sensor rod and sensor electronics housing offers higher protection resulting in less down time.
With this innovative flexible design, the RFV is available with a stroke length of up to 20 meters. Due to the flexible nature of this sensor, it coils easily and ships to your application quickly.
RDV and RFV are available with the following outputs: Analog, EtherCAT®, POWERLINK, PROFINET, EtherNet/IP™ and SSI. They enable a multi-position measurement of up to 30 positions simultaneously. The sensors of the new generation are backward compatible due to their proven electrical and mechanical connections and designs. With the new R-Series V options the step towards industry 4.0 is easily possible by improving the sensor electronics.
All R-Series V sensors are supported by the optionally obtainable smart assistants TempoLink® and TempoGate®. They deliver detailed information about the application state, for example sensor status, temperature of the electronics, total operating hours, distance traveled by magnets and much more.
With the increased performance, ideal design and additional status information of the R-Series V, it is possible to optimize the performance of the application and the efficiency of the work processes. Better monitoring of the system reduces operating costs and minimizes downtime. In addition to the afore mentioned benefits a team of experts with extensive application knowledge supports the user from project planning to go-live of the machine in order to find the best sensor solution.